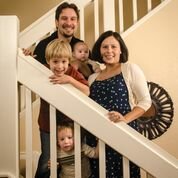 THRIVE was born out of a young couple's battle with cancer in 2005. Two days after returning from their honeymoon, Candi and Tony Caporal found themselves sitting in the M.D. Anderson Cancer Center, listening to a doctor explain that he really did not know what was wrong.
A few weeks and many medical tests later, the couple's worst fear was realized. Candi was diagnosed with stage II–B Non–Hodgkin's Lymphoma. Making matters worse, Candi had a 60% chance of becoming infertile as a result of the chemotherapy treatment. Not only was the couple struggling with a cancer diagnosis, but they also had to quickly learn how to navigate the world of fertility preservation in the few weeks before Candi's cancer therapies began.
Perhaps the most frustrating part was that a price tag was very quickly placed on the possibility of starting a family. With in–vitro fertilization procedures costing up to $15,000, the young couple was forced to take out a loan to ensure that they might be able to start a family. The young couple successfully created thirteen embryos leveraging in-vitro Fertilization techniques, and was given the opportunity to start their family after cancer therapies ceased. This experience provided the inspiration to create the Caporal Assistance Network (CAN) in 2005. In January 2016, the name of the organization was officially changed to THRIVE Cancer Fertility Resources to better reflect the work and mission of the organization.
The saddest part of this story is that there is still a need for the services that we provide to our community. Insurance carriers still deny their members this much needed benefit which causes stress, heartache and financial barriers to starting or continuing a family. We live in an age where reconstructive surgery, hair replacement therapy and other medical procedures are fully covered and are a vital part of the healing process for survivors. Why fertility preservation is not prioritized like other healing practices that survivors have access to is simply disgraceful. Until this changes, THRIVE will be here to ensure that Central Texans have the financial support to pursue their dreams of starting or continuing a family.